An Adventure in My Research of Pinterest & Social Media Exposure
In our Social Media Strategies Fall Class, students were given the assignment of researching one of the social media vehicles and creating an E-Book.  The social media I chose to research is Pinterest. (I have attached the E-Book my group partner and I created below)  While I have not utilized Pinterest other than pinning, I began to realize that for a business owner, I am able to see its value.  In researching the users and what they look for, I began to look farther to gain the most information in a short time, through web-sites and reading the blogs of users.
What is Pinterest exactly?  It is a way of saving posts (pins) to a board that interest you.  A business would use it if they were advertising a product or a service and may add testimonials of satisfied customers.  Pinterest is utilized by major retailers such as Scholastic Books and Whole Foods and is gaining in popularity.  The main users are women, 23-34 years of age and some college education.  I found it interesting that the most popular category searched is Art, Art Supplies and Hobbies.  While this is but one section of the class E-Book, each category comes together to give a picture of social media and its uses, and who uses it for what their chosen project may be. To fully describe everything I learned here would be redundant and I would rather show you my finished product.
PINTEREST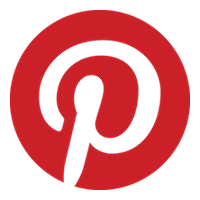 Introduction
What is Pinterest?
Launched in March of 2010
Free website but you must register to use
Users may upload, save, sort and manage images (pins) and other content through collections (pinboards)
Share on Pinterest, it is a pin
Share someone else's pin, it is a repin
Group pins together by topic and it is a board or pinboards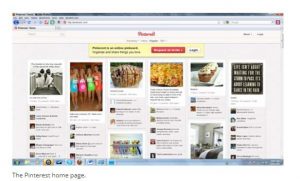 A business may use Pinterest to reach a target audience

What is the business objective?
What will the business achieve by using Pinterest?
Create your boards to share products/services by pinning
Content core informs your audience of what you care about and your brand's specialty
Companies that currently use Pinterest:

Better Homes and Gardens
Scholastic
Michaels
Whole Foods
And many other nationally known
Who Is Using Pinterest?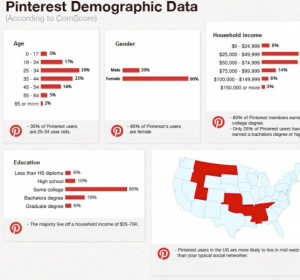 81% of users are Female and 7% are Men
40 is the average age (majority are under 40)
30% share of all US social media use
50% of Pinterest users are from the US
1 of 2 Millennials use Pinterest daily
Shoppers, savers and planners are the most dedicated users of Pinterest
Share of Pinterest Users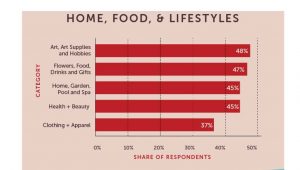 93% of active pinners said they planned to use Pinterest to plan for
50% have made a purchase after seeing a promoted pin
Almost 85% of searches happen while on a mobile device
Almost 80% of users say it is useful to see Brand content on the site
Users spend 29% more on retail purchases than those who do not use Pinterest
Social Media Usage Share
  If you have a message, do not post during work hours
Include a call to action (80% of viewers will not interact otherwise)
Best time to post is between 8-11 pm
 Top subjects of the day: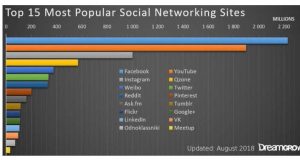 Businesses and Pinterest
175 million active users globally
57% Pinterest users are also on Instagram
Favorite Topics:

Art, Art supplies and Hobbies (48%) o Flowers, food, drinks and gifts (47%) o Home, garden, pool and spa (45%)
Health + Beauty (45%)
Clothing + Apparel (37%)

Pins to use:

Helpful
Beautiful
Actionable

Awesome visual Pins:

Use prices in your images
Use 735 px X 1102 px for size
Use the Pinterest Button
And color matters!

What to Write:

Use just over 300 characters o Always add a link and a price o Write Calls-to-Action
Use keywords for searching
Mention others

Special Types of Pins:

Promoted Pins

Increase your traffic
Engagement shows increase of 2-5%

Buyable Pins

New Feature!
Users purchase product within Pinterest App (Shopify users)

Rich Pins

Allows you to define additional info using meta-tags
Five categories

Product
Recipe
Article
Movie
Place

Repins

Over 80% of all pins are repins
Grow content by collecting great content

Is your audience on Pinterest?

What is your product, message and target audience?

How do you determine if the target audience fits the bill?

Is your product of interest to Pinterest users?

Do your business objectives match what Pinterest has to offer you?

Can you spread your message on Pinterest effectively?

How do you find the business objectives?

We want 65% of our audience to be the

How will going on Pinterest benefit my business?

What is the business objective?
Then, is this media channel going to help me achieve my goal?

How do I create my Pinterest boards?

First you need an account!
Add boards:

Topics that your audience care about
Content which is the value that your business provides

Make Content Pin-Worthy

Pin to most-browsed categories

Food & Drink
DIY & Crafts
Home Decorating
Home Feed

100 Trend Predictions for 2018

Food
Travel
Home
Kids & Parenting o Women's Style o Men's Style
Health & Wellness
Beauty
Celebrations
Hobbies & interests

Times to Pin

Saturday morning & 8-11 p.m.
Any day 2-4 m., 2-4 p.m. and 8 p.m. to 1 a.m.
Fridays at 3 p.m.

How to set Marketing goals on Pinterest

Goals should relate back to your business objectives and contribute to success

Increase percentage of millennials reached to inform them of your product?

S – Specific- set firm numbers & percentages to hit
M – Progress supported with data
A – Agreed Team agrees on goals to reach.
R – Ambitious but attainable.
T – Time based. You need a
Measure your Success
o What metrics will you measure?

You can schedule your pins to the best available time for your pin.
Summary
 Who uses Pinterest?
81% are women and 7% are men
Pinterest is not for planning weddings but more!  Pinterest has a 75% increase in viewers from last year, and not just saving crafts!
115% – Products they love
Style Ideas – 38%
Art – 50 %
DIY Projects to try – 35%
Businesses can post content about their product or services, and information will be circulated.  You can schedule your content and sit back and review the results and tweak for optimal strength in   the search engine search.
Sources:
Sharp, Evan, "Helping a quarter billion people find inspiration" , Pinterest Newsroom, https://newsroom.pinterest.com/en/post/helping-a-quarter-billion-people-   find-inspiration, Accessed October 2, 2018
"Dreamgrow Digital", https://www.pinterest.com/dreamgrow/, Accessed October 2, 2018
Chen, Jenn, "15 Pinterest Statistics Every Marketer Should Know in 2018",  https://sproutsocial.com/insights/pinterest-statistics/, Accessed October 3, 2018
Smith, Aaron, "Social Media Use in 2018",  http://www.pewinternet.org/2018/03/01/social-media-use-in-2018/, Accessed October 2, 2018
Hauff, Ashton, "How to Use Pinterest for Business: The Ultimate Pinterest Marketing Guide", http://www.pewinternet.org/2018/03/01/social-media-use-in-2018/, Accessed October 1, 2018
I would like to also suggest two other Blog Posts  my classmates also submitted for our assignment.
Group Ebook – How to use Twitter, YouTube, and LinkedIn for marketing
Attached is the E-Book my partner and I created for this assignment.